About this Product
Set of 4 handmade lampwork glass buttons. Bright, yellow green called pond slime, with a raised spiral imprint for texture and interest. If you are looking to elevate your fiber art ~ handmade buttons are just the thing! These measure approximately 13-14mm across with a total depth of 13-14mm, and a 3mm hole.


*not recommended for the washer and dryer

Beads are lovingly handmade and annealed in a digitally controlled kiln.
I strive to provide high quality artisan made beads that are affordable for any jewelry designer. Unique beads will set you apart from the crowd! I want to be your go to source for beads that elevate your designs without elevating your price point. I look forward to working with you!
*Beads are a choking hazard and therefore not recommended for children under five*
My home/studio are smoke-free; however, I do have a helper cat whose sole responsibility is to follow me around and occasionally perform inspections to be sure my work is up to his quality control standards.
Meet the Maker
Hello! My name is Jessica Veda Jones. I live in a tiny town outside of Spokane, Wa with my incredibly supportive husband, our youngest daughter, 2 cats, and an iguana. We live in a giant old Grange Hall that is a fabulous place to create (but murder to heat!)! We have 3 daughters and 4 grandchildren. I am the full time day care for 2 of the grandbabies and also run a vintage business in addition to the glass working. In my spare time I play in the kitchen; cooking, baking and canning, and dabble in gardening. Glass was my passion for years, but then several moves and life changes interrupted it (for about 8 years) and I am so thrilled to finally be back behind the torch!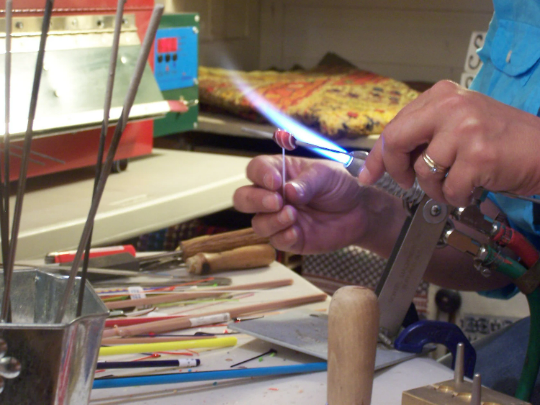 How it's Made
All beads and buttons in my shop start as a rod of glass (about the diameter of a pencil). The glass rod is melted in the flame of an oxygen propane torch and then wrapped around a mandrel dipped in bead release. I use heat, tools, and additional glass to shape the bead or button. Once I've reached the desired look, the item goes into a kiln holding at 960* F. When I'm finished creating for the day, I set the kiln to complete the annealing process. This takes approximately 8 hours. When the beads reach room temperature, I remove them from the kiln, remove them from the mandrels, and clean the holes with a Dremel tool. At this point I can either photograph them and list them for sale or put them in a rock tumbler for 24-48 hours to create a matte finish.
Please sign in so that we can notify you about a reply